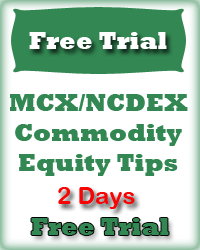 Gold and silver trading in the international market is weak. COMEX gold dropped 0.5 per cent to $ 1766, while silver broke nearly 1 percent to $ 34 per ounce level. Slowdown in the domestic market last week with gold closed at Rs. 31,223, while silver ended at Rs. 62,819 with a flat trading.
Crude oil slipped nearly 1 percent on NYMEX, the price is around 91 dollars a barrel. MCX last week, crude oil closed slightly down on 4825 levels.
London Metal Exchange (LME) copper slipped nearly 1 per cent on though Copper rose 0.26 per cent in the domestic market last week and closed above Rs 441.
Commodity MCX Tips for today:
1.
Gold (December futures) MCX
: Sell -31,550 to 31,600 rupees stoploss of Rs -31 700, -31 400 bucks Target
2.
Crude oil (October Futures) MCX:
Rs Sell -4910 to 4920 with stoploss of Rs -4970, -4820 Rs Target